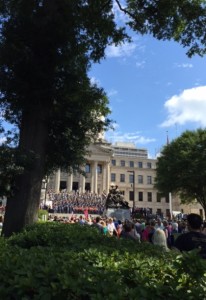 I hope you all came to the inaugural Mississippi Book Festival on Saturday! If not, you missed a treat. The Festival opened with the Jackson State University Sonic Boom of the South, followed by the governor, lieutenant governor, speaker of the house, U.S. Senator Roger Wicker, and John Grisham!
Besides our good friend JG, there were tons of other wonderful authors discussing their books and related topics during the panel discussions. You can see some of them via C-Span 2 here:
Harper Lee Considered
Eudora Welty: Letters, Flowers, Loves, and the Latest Scholarship
History and Biography
Civil Rights History
We have book club kits for some of the authors who appeared at the Festival, such as W. Ralph Eubanks's Ever is a Long Time: A Journey into Mississippi's Dark Past, Matthew Guinn's The Resurrectionist, Michael Farris Smith's Rivers, and Katy Simpson Smith's The Story of Land and Sea. We also have a kit for Eudora Welty's The Collected Stories, who fits into this category of "appearing at the festival" because she was definitely there in spirit.
If you didn't make it out, don't cry too much. We're going to do it all again next year on August 20, 2016. See you then!