Hey, Mississippi Readers!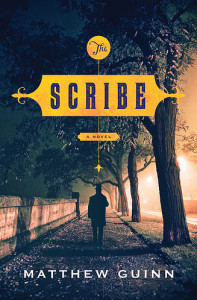 Our next book is Matthew Guinn's The Scribe, and we're going to do things a little differently. Instead of a series of blog posts about particular things about the book, two of our staff are going to have an online book chat, which we'll post here when we're done. If that works, we'll do that for some of our future books. The Scribe is now available as a Book Club Kit. Discussion questions are available here.
The Scribe is Matthew Guinn's second book (his first, The Resurrectionist, is also available as a Book Club Kit!) and the description from Guinn's website says:
On the eve of Atlanta's 1881 International Cotton Exposition, disgraced former detective Thomas Canby is called back to the city to track a serial murderer who seems to be targeting its wealthiest black entrepreneurs. The killer's method is both strange and unusually gruesome: on each victim's body, a letter of the alphabet is inscribed. Intent on shielding the city's celebration of New South industry, its most prominent businessmen—"the Ring"—pressure Canby to tie up the case. Paired with Atlanta's first African American officer, Cyrus Underwood, Canby must face down enduring racism, and his own prejudices, to see clearly the source of these bloody crimes. Meanwhile, if he can restore his reputation, he might win back the woman he loves.
Interracial crime fighting in post-Civil War Atlanta? We can't wait to begin!