Next week, Pearl and Myrtle will do their book chat on Cat on a Hot Tin Roof, but until then, here are some discussion questions to get you started. Leave your thoughts in the comments!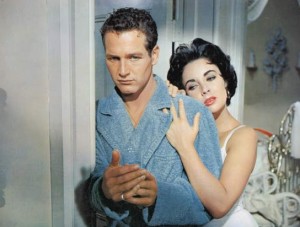 Discussion questions for Cat on a Hot Tin Roof:
1. Discuss the use of stage notes/directions in the play.
2. There are two endings to the play: the original, and a more hopeful one that Elia Kazan encouraged Tennessee Williams to write. Which do you prefer and why?
3. Tennessee Williams chose to compress the staged action of this play into a single night, but the story itself has a much longer range. When does this story begin and end?
4. Why does Maggie's announcement that she is pregnant seem like a viable solution to her? Will it solve her and Brick's problems?
5. How have women's economic and social roles changed since the first production of Cat on a Hot Tin Roof1955? In what ways have they remained unchanged?
6. What elements normally associated with the Antebellum (post-Civil War) South appear in the play? What more modern elements appear? Explain how elements from such diverse eras can coexist in this play.
7. Cast this play for a modern movie version.