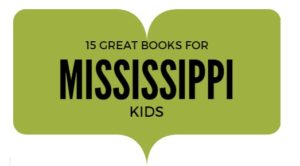 Need some ideas for Mississippi kids books? Check out our list. We've got books for all (kid) ages!
Picture books:
The Amazing Age of John Roy Lynch by Chris Barton
Crossing Bok Chitto by Tim Tingle
Elvis: The Story of the Rock and Roll King by Bonnie Christensen
Flying Lessons by Gilbert Ford
Richard Wright and the Library Card by William Miller
The Secret World of Walter Anderson by Hester Bass
Voice of Freedom: Fannie Lou Hamer by Carole B. Weatherford
Chapter books:
Because of Winn-Dixie by Kate DiCamillo
Brown Girl Dreaming by Jacqueline Woodson
Freedom Summer by Deborah Wiles
Glory Be by Augusta Scattergood
My Dog Skip by Willie Morris
Roll of Thunder, Hear My Cry by Mildred D. Taylor
The Shoe Bird by Eudora Welty
When I Crossed No-Bob by Margaret McMullan
Click here for a printable version.