Mississippi is known for being poor in many ways, but we're rich in authors — so many we almost feel sorry for those other states. We've got Nobel and Pulitzer Prize winners, bestsellers, literary geniuses, folks you've never heard of, folks you meant to read, folks you pretended to read, and folks to discover.
Mississippi Must Reads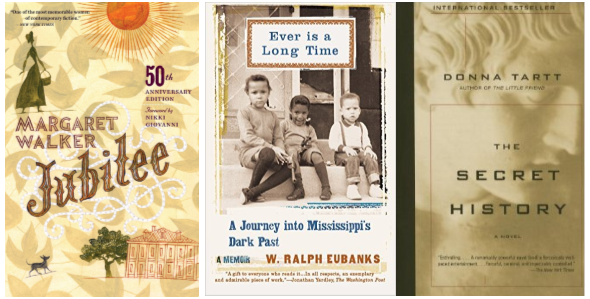 Make it your bicentennial challenge to read one of these a month in 2017:
Ever is a Long Time by W. Ralph Eubanks
Wolf Whistle by Lewis Nordan
The Sound and the Fury by William Faulkner
Men We Reaped by Jessamyn Ward
Free Men by Katy Simpson Smith
Jubilee by Margaret Walker Alexander
The Optimist's Daughter by Eudora Welty
The Secret History by Donna Tartt
Native Son by Richard Wright
The Heaven of Mercury by Brad Watson
Victory Over Japan by Ellen Gilchrist
Native Guard by Natasha Trethewey
Need more ideas? Try these great lists:
You can also use the Mississippi Library Commission's Bookmatch service to help you choose your next big read by a Mississippi author (or any other author, for that matter!). Fill out the form and let our research team do the work.
If you have trouble reading standard print due to a visual or physical impairment or an organic reading disability or if you know someone who does, you both may qualify for the Talking Books Service, which provides audio, Braille, and large print books to those registered for the service. For more information, click here or call 1-800-446-0892.